MGF Indonesia L728
MGF Bali Jai X MGF Argentine Don Macho
DOB 5/23/07
Miss Bali was purchased at the Bolivian Import Sale in probably 1992 or thereabouts.
About that same time...we purchased Macho's Ace from Dick Wickum.
Jerry bred these two...and the result was MGF Bali Jai...born in April of '93.
Some 14 years later...in 2007...Indonesia was the result of a breeding of Bali Jai to Don Macho.
I find this fascinating...that over a period of so many years...
this line continued on....
MGF Indonesia
Fall of 2014
Indonesia with mom, Bali Jai ... who had to be 14 yrs old!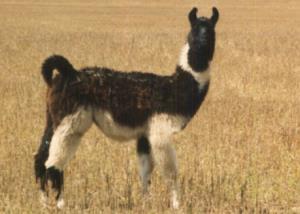 This photo was Bali Jai's registration photo.
Pretty classy for 1994....as she was probably a weanling!
Look at the color pattern and ears...plus confirmation! Nice!
Macho's Ace improved every female he bred...
and Miss Bali's registration photos from the import weren't too red hot!!
Jerry must have seen something in her that he liked...
maybe just the new bloodline!
yearling photos of Indonesia..nice bone and fiber
Sheared in 2011
September of 2014...healthy and hearty!
With her last cria, MGF Princess Jai, out of Bacchus Azul...
taken September 2014